Baader IR pass filter. For infrared photography
This IR pass filter blocks nearly the complete spectrum of visible light. At 685 nanometer (beyond red light), it has 50% transmission and the transmission curve has a steep gradient. A small amount of visible light can pass for focusing.
The human eye has nearly no sensivity in this spectral area so this filter is only intended for photographical use.
The IR pass filter calms the seeing. In direction to longer wavelenths, seeing does not influence the picture's sharpness too much. Especially when more pictures are stacked (e.g. with Registax or Giotto), better seeing increases the overall picture quality.
Using webcams, the best Mars pictures have been captured aided with this filter.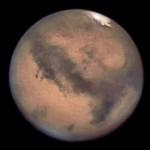 The Trick: additional to the colour pictures, a separate "luminance" channel is captured through this filter. Due to the beginning of this luminance channel at 670nm (and not at ~ 400nm), the pictures are sharper because of the smaller seeing influence.
The IR Pass filter used for Deep Sky. This is also possible. Many amateur astronomers experiment with this filter in deep sky. Such photos have interesting information in IR.